Current Project
We are currently looking forward to CSU Theatre's Fourth Annual 10-Minute Play Festival. This play festival allows students to fully participate in the play production process from start to finish. Students write and perform in all plays. This is a wonderful opportunity for students to gain production credit while in college.

We will be scheduling auditions for Tuesday, February 24 from 12:30 p.m. - 2:00 p.m. and Wednesday, February 25 from 4:00 p.m. - 6.30 p.m.! Location in Douglas Hall to be announced. 
Coming Soon
Goodman Theatre's The August Wilson Celebration is an unprecedented citywide exploration of August Wilson's work including concert readings, panel discussions, special events and a revival of Wilson's masterpiece, Two Trains Running.  Learn more at GoodmanTheatre.org/AugustWilson.
Chicago State University (CSU) Theatre is proud to be a part of The August Wilson Celebration curated by Chuck Smith of the Goodman Theatre! On March 24, we will host a concert reading of August Wilson's Seven Guitars directed by Aaron Todd Douglas. The event is free, but reservations are required. Parking is $5.  Click the link in the sidebar to be redirected to our online reservation form. 
About Seven Guitars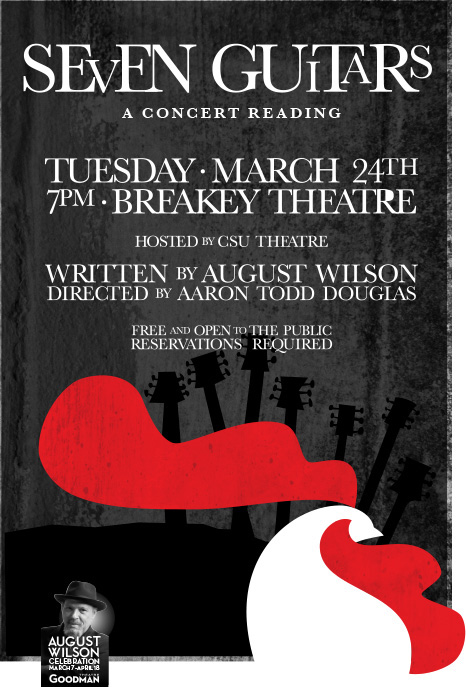 Friends and family recall the hopeful future that lay in store for rising blues star Floyd "Schoolboy" Barton.  Flawed plans and an unexpected clash with Hedley, a mystical old man from New Orleans, seal Floyd's fate and devastate his attempts at reinvention and a better life.