Admitted Students Checklist
This checklist is for admitted students. Please don't hesitate to contact us (ug-admissions@csu.edu) if you have any questions!
Please indicate your intent to enroll by clicking here.
All First time Students must first activate their account. Click here
Step 1: Enter your CSU ID (it is your nine-digit CSU identification number), Birth Date, and Last Name. Click Next.
Step 2: Please read the policy "Responsible & Ethical use of Computing Resources". Click the box to accept the terms and then click Next.
Step 3: Please enter your alternate contact information. This is the method the system will use to contact you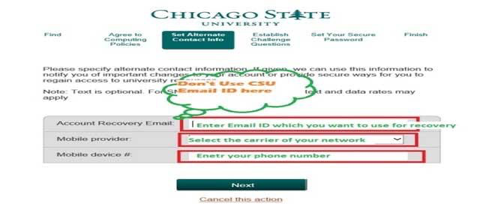 If you forget your password, you have the option to reset your password via a text message or an email to an alternative email account. The mobile phone number and email address provided here can be used when you request a reset of a forgotten password. This is OPTIONAL. If you do not wish to provide a mobile phone number and/or an alternate email address, leave the field or fields blank. You will still be able to use security questions to recover your account if you forget your password.
Step 4: Please select and answer your security questions. These questions will be used to reset your password.
If you forget your password, you will be able to reset your password by correctly answering your security questions. You must choose 3 different questions. You must provide an answer to all 3 questions. All answer must be at least 4 characters in length and they all must be unique.
Step 5: Enter and confirm your password following the rules listed below. Then click next.
Step 6: Your Activation is Complete. Please print this page for your records. You will need to remember your account user id and your newly created password to access your email, Moodle, and active directory account.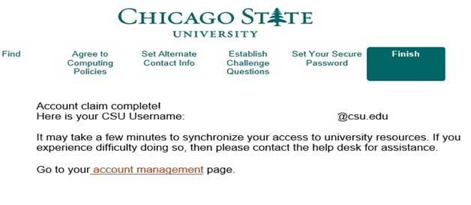 You have successfully completed the account activation process. Your Chicago State University user id and your email address will display on this page. Please write down this information for your records.
Timeline:New students should complete this step upon admission to the university, prior to new student orientation.
By filing your Free Application for Federal Student Aid (FAFSA) on, or as soon as possible after, October 1st, you establish eligibility for Financial Aid funds which have limited funding and are awarded on a first-come, first served basis, such as the State of Illinois MAP Grant, Federal Supplemental Educational Opportunity Grant (SEOG) and Federal College Work-Study.
Have you applied for financial aid?
If no, apply on-line at www.FAFSA.ed.gov , or contact the Office of Student Financial Aid.
If yes, be sure to check the e-mail address you used on the FAFSA application for financial aid updates.
You may also check with your academic college for additional scholarship opportunities.
Priority consideration for merit-based scholarships is based upon completing the FAFSA by February 1. You may complete your FAFSA after February 1 1; however, funding may be limited.(U.S. citizens and permanent residents only)
Visit our Apply for Financial Aid (FAFSA) web page for additional information.
STILL NEED HELP applying for Financial Aid at Chicago State University?
Please contact Financial Aid at (csu-finaid@csu.edu ) for assistance and/or additional information. CSU's federal code is 001694.
Timeline: New students should complete this step on or before February 1.
5 - Confirm your financial aid award

6 - Select a refund preference with BankMobile for any financial aid refunds

7 - Apply for Housing (if considering living on campus)
If you are interested in on-campus housing, contact Residence Hall management office at (773) 995-4543.
Timeline:New students should complete this step on or before May 1.
After you confirm your enrollment, you will begin to take additional steps towards becoming a Cougar!
ALL NEWLY ADMITTED FRESHMAN STUDENTS ARE REQUIRED TO TAKE THE PLACEMENT EXAMS PRIOR TO NEW STUDENT ORIENTATION AND REGISTERING FOR THE SEMESTER.
Placement exams should be taken upon being admitted to the university or as soon thereafter (If applicable).
The Office of Examinations runs the Examinations Testing Lab which is located at Douglas Hall, Room 119. At the Examinations Testing Lab, new and current students can take placement exams as part of getting started with registration for required English composition and Math courses. You are encouraged to arrive no later than 15 minutes before the scheduled test time.
Please use our online registration form to make an appointment to take your placement exams.
****In an effort to observe social distancing, placement test can be taken remotely. For additional information and registration for a virtual placement test, please contact Marlena Johnson at: mjohns72@csu.edu).
Timeline: New students should complete this step on or before May 1.
Students who have confirmed their enrollment can select their orientation date beginning in May.
Cougar Start U (new student orientation) is required for all newly admitted freshmen. This event creates a smooth transition for your first year at Chicago State University.
Cougar Start U Orientation is your one day event, where you will get the information needed to complete your enrollment process including information on financial aid, registration, campus life, and more. You will also have an opportunity to meet with your academic advisors and register for classes.
Freshmen are not allowed to register for classes until they have completed Cougar Start U Orientation.
Timeline:New students should complete this step upon admission to the university.
****With respect to social distancing, registration for our virtual orientation can be found here.
Newly admitted freshmen are required to provide their final Official High School transcript with school seal and graduation to the Office of Admissions by July 1.
Students can request ACT or SAT official scores to be sent to Chicago State University – code 0992 by contacting the below agencies:
If you attended a community college or earned college credits during high school, please arrange for that college to send an official transcript to the Undergraduate Admissions Office by July 1.
Timeline: New students should complete this step upon admission to the university, no later than July 1.
Chicago State University accepts the following types of course credit:
Advanced Placement (AP)
International Baccalaureate (IB) diploma and certificates
College Level Examination Program (CLEP)
Dual Credit
State Seal of Biliteracy
Advanced Placement and International Baccalaureate credit is generally accepted if you meet the required minimum score for each exam. Detailed information on each of these credits may be found here. Contact each organization to learn how to send your scores to Chicago State University:
Immunizations are a state law requirement and failure to comply will result in academic withdrawal. Prior to registration, you are required to provide proof of immunization compliance. All enrolled students who attend classes on campus must provide documentation of immunizations.
Prove immunization requirements by completing the Student Immunization Record (pdf) form and send it to:
Illinois high school health records are acceptable if they contain information as specified in the following standards and are properly certified (all information must be written in English):
All dates in a series of immunizations must be included.
All dates must include month, day and year.
A physician, school/college/university health service registered nurse or Illinois Department of Public Health official must certify all dates by signature and include address.
Any laboratory or radiological (x-ray) evidence must be accompanied by a copy of the report showing the student's name and dates.
Only the following exemptions will be accepted and statements must accompany the Certificate of Immunity form:
Medical contraindications - A written, signed and dated statement from a physician stating the specific vaccine(s) contraindicated and duration of the medical condition that contraindicates the vaccine(s).
Pregnancy or suspected pregnancy - A signed agreement from a physician stating the student is pregnant or pregnancy is suspected (give expected date of delivery). After delivery, the student must then comply with the provisions of this policy as directed by her physician.
Religion exemption - Those claiming exemptions for religious reasons must file Form B-114 (obtained from the Wellness Center) along with a letter on official church stationary and signed by the religious administrator.
Students should contact the Wellness Center, located in Room 131, Cook Administration Building, or call (773) 995-2010 for further information on how to satisfy State of Illinois immunization requirements.
Timeline: New students should complete this step on or before Oct 15, 2020.
13 - Meet with your advisor to create your degree plan and obtain your registration pin number

14 - Register for classes via Cougar Connect

15 - Obtain Parking pass if you are commuting

16 - Confirm all expenses (Cougar Connect)

17 - Obtain a university ID (Cook Administration Building room 130)

18 - Get all educational materials (books, calculators, etc)

19 - Start your course work

20 - Go forth and conquer
*If you are a Veteran, there are some additional requirements in order to confirm enrollment and obtain benefits. Please contact Veterans Affairs for details
Important Contacts