Aquaponics Facility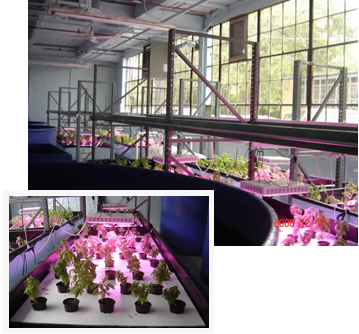 In the summer of 2010, Chicago State University opened the Aquaponics Facility. The project consists of raising tilapia fish in a controlled continuously circulating water system. The effluent of the fish holding tanks are circulated through growbeds, providing nourishment where plants will be grown hydroponically. This integrative process between aquaculture and hydroponics is known as aquaponics.
The facility provides a hands-on learning environment supporting the development of our Urban Agriculture/Ecology concentration for CSU students. Benefitting those matriculating at the university, area high school students, and the community at large, the Aquaponics Center serves as a resource and training center addressing nutrition and health issues facing inner city communities and green workforce preparedness.
Some of the plants you can find growing in the Aquaponics facility are basil, strawberries, chives, mustard greens, and many more. The goal of the facility is to incorporate the academic study of urban environmental sciences with community outreach/recruitment to train future students and community members to grow nutritious food with a small carbon foot print.
Starting in April 2011, the department opened a Community Garden where students, community gardeners and high school gardeners grow nutritious foods that combat the existence of the "food desert." An area is considered a food dessert when plenty of food high in caloric content and low in nutritional content is available and healthy options are more difficult to obtain. By growing their own food and donating to service organizations, gardeners learn the value of nutritious food and how it impacts health.
*Note: CSU DOES NOT sell miniature aquaponics kits to schools, community groups, or individuals. CSU CANNOT sell fish to individuals.
For tour requests or more information, please email psims@csu.edu, jgana@csu.edu or call 773-995-2183