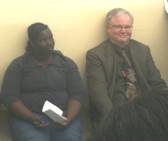 Secondary English Education
Class of Spring 2012
I believe the English Secondary Education program at Chicago State University [CSU] has thoroughly prepared me for a career as an educator. The selection of English courses such as British Literature, American Literature, and World Literature, covered the full spectrum one will encounter in the high school English classroom. During the courses, one learns how to analyze a text, explain themes, identify the influence of history on writing, and how culture is reflected in the literature of a country. The English courses also require that one knows how to research literary themes and interpretations. The education and methods courses helped me understand that there is a grand difference between being a good reader and writer and knowing how to teach reading and writing. I believe that the professors selected excellent materials to show how to teach in the language arts classroom. Although some of the courses were difficult, my student teaching experience proved to me that I was well prepared by the staff at Chicago State University. The classroom sizes are not overwhelmingly large and the professors are knowledgeable, understanding, and supportive—even after one completes the program. I would definitely recommend the English Language Arts program at CSU.