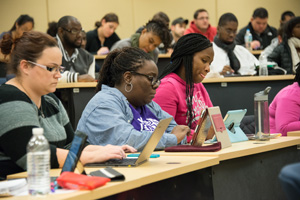 We seek your commitment and partnership to help us attain a mutual goal: furthering the work of the University in its mission to provide a high quality and affordable education to all students.

Scholarships
Financial challenges are the single biggest barrier to Chicago State University students seeking a higher education. Without scholarships support many of Chicago State University students would need to put their aspirations of obtaining a degree on hold. For CSU students to come the professionals they want to be, requires that we help them remain students first. We accomplished this objective by securing scholarship funding. This is why scholarship support is so important. The contributions provided by donors keep open a door and help tomorrow's students walk through to their future.
Capital Projects
Instruction and research require high tech tools, state-of-the-art classrooms and labs, and energy-conscious buildings. Capital gifts allow us to construct new facilities so we can progress to more discoveries and increase capacity to graduate more leaders. Capital gifts help Chicago State University to update our existing facilities so they are more functional, welcoming and environmentally responsible. With capital gifts we become a place of education - in the broadest sense.
Current Operating
With recent state budget cuts, giving to current operations makes an immediate impact on the everyday activities at CSU. Operating support keeps CSU's campus a dynamic and energetic place to study and work. Financial funding of operating support allows us to instantly react to new thoughts or needs. We can meet a gap in financial aid, address an emerging research issue or fund an innovative idea that crosses multiple fields.
For more information on giving to Chicago State University, or to discuss your personal interests in confidence, please contact:
Note: Please consult your attorney and/or financial planner regarding applicability of tax benefits.