Online Education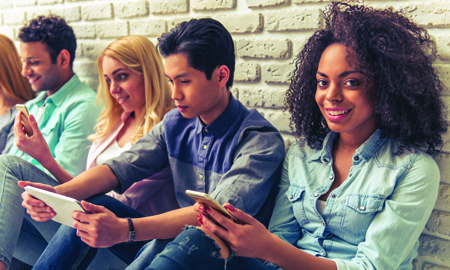 Online courses are classes where 100% of the instruction is done online, rather than face-to-face. Online courses at CSU use Moodle, a Learning Management System (LMS), that allows students to download reading materials and assignments, watch class videos, post to discussion boards, take quizzes, and much more--all online.
Many students enjoy the convenience and flexibility of being able to complete their coursework from anywhere at any time as long as they have access to a browser and the internet. Students create their own class work schedule, but assignments and activities have specific due dates and expectations. In addition, some faculty will require students to be online at specific times to interact as a class.
Is online education right for you?
Online courses are not easier than traditional, face-to-face courses. Many students find online courses require more time and effort as far more reading and writing is typically required.
Online courses and programs at CSU are designed for students who are able to take responsibility for their own learning, are comfortable using a computer and necessary technologies, and are able to communicate effectively through writing. To be successful, students need reliable access to a computer and the internet and must be able to log into their online course at least two to three times per week and actively participate in class.
To find out if you have what's needed to be a successful online student, take the Online Assessment System for Internet Students (OASIS). OASIS will help you determine your readiness for taking online courses based on your study skills and preferred learning styles. See also the technical requirements needed to access Moodle, our online course delivery system.
CSU online students on online education:
We asked CSU students who've taken online classes what you should know before enrolling in online courses or programs at CSU. Here's what they said.
What are the benefits of online education at CSU?
I was able to finish my last four (4) classes online and graduate without waiting until the [next] semester. Online education is a God-send.
I have had the distinct opportunity to take advantage of several online education classes at CSU and found them to be extremely convenient, helpful, user-friendly, and above all educational.
I really like [my online program], I [like] how self motivated it has made me.
I did not think I would do well without the personal interaction of being in a classroom. I was wrong, I did very well.
The new TPIS [online] program has been a wonderful experience.
The convenience of not having to travel to and from campus.
The accessibility to [my] professor was great!
Online education is a valuable resource...at CSU. I can't tell you how thankful I am for it.
What are your tips for new online students?
Be ready to do just as much work as in-class courses, but with the ability to do the work when it fits best in your schedule.
Because discussions are online, one should be prepared to do a lot more writing and to do it well.
Don't hesitate to contact your instructor immediately at any sign of a problem or difficulty. My instructors were timely in their responses and very helpful.
It's basically independent learning and you are required to pace yourself.
You must study the textbook as well as complete online assignments to gain full understanding of the material.
You will have to [regularly] check the website online for when assignments are due
It's a class, you are paying for it! Allocate time to complete the work!!
Stay on top of deadlines -- put reminders in your phone or in Outlook so that you don't miss deadlines. Try, if time permits, to read a little every day to complete the assignment in bites instead of chunks.
Who should take online classes?
As a full-time working professional the online classes provided me a unique and priceless opportunity to study at will.
I would not recommend online education [to] a student that needs a hands on experience. Otherwise, it is very convenient for an individual who is working and has a family to care for.
Someone that is not computer savvy should [not] take an online class as it will most likely frustrate them.