Past Lectures
Black History Month (CSU Alumni: Our Stories Continue)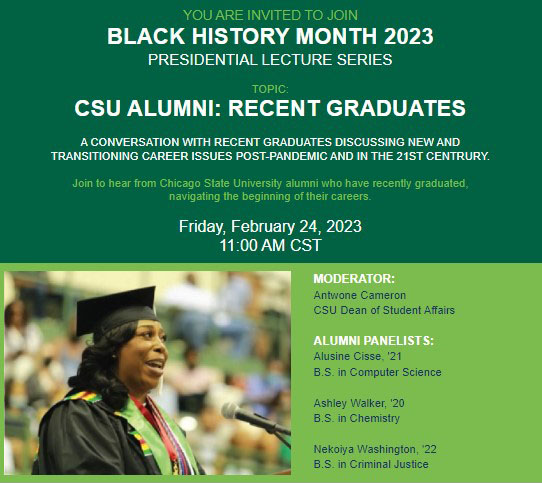 February 24, 2023 at 11am
Recent graduates of CSU gathered virtually to discuss their brief journeys -- the good, the great...and the unexpected -- since graduating from the University. In a spirited and honest conversation, moderated by CSU's Dean of Students, Antwone Cameron, the panelists shared lessons learned, successes earned, and the myriad opportunities possible with a CSU degree.
Chicago State University's Presidential Lecture Series, sponsored by the Office of the President, presents conversations during Black History Month with thought-provoking leaders designed to engage the university and our broader community.
As Illinois' only four-year U.S Department of Education designated Predominantly Black Institution, Chicago State University is uniquely positioned to elevate diverse thought leadership and speakers who bring inspiring ideas, promote courageous leadership,encourage civic engagement and elevate professional excellence.
Feb 21, 2023 at 1:00pm
The Role of a Public School Superintendent Post-Pandemic and in the 21st Century:
Present By: