CSU AmeriCorps Outreach Ambassadors Program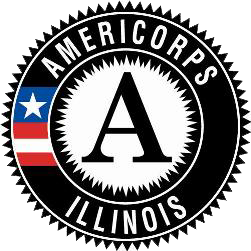 Mission
CSU AmeriCorps is dedicated to student service, with a commitment to building the next generation of future leaders who want to create change in their lives. By collaborating with supporting organizations, we aim to empower individuals to overcome life challenges and provide them adequate resources and opportunities. Click here to apply!
AmeriCorps Member Benefits
Approximately $1,166 monthly living allowance
$6,095 education award upon completion of service
Valuable training and work experience
Develop team and leadership skills
Receive health insurance & childcare assistance based on eligibility
Selected AmeriCorps member will focus on the following service projects for the 2019-2020 year:
ECONOMIC OPPORTUNITY - To increase economic opportunities for communities by engaging Opportunity Youth (OY) to prepare them for the workforce. Members will develop resources to improve the well-being and security of economically disadvantaged youth; help economically disadvantaged youth to have improved access to services that enhance financial literacy; transition them into or remain in safe, healthy, affordable housing; and/ or have improved employability leading to increased success in becoming employed.
EDUCATION - To provide educational opportunities to those who seek assistance to obtain a college education or pursue a career
Program
AmeriCorps Members will be responsible for executing recruitment initiatives to touch at least 1,000 of these youth in the next year with this program. Following recruitment, participants will be invited to attend AmeriCorps led workshops in financial literacy, workforce development, and educational opportunities. Participants will also be interviewed by AmeriCorps Members and will be referred to appropriate partners for specific intervention services. One of the partners, the CSU Educational Opportunity Center, will provide post-secondary education services such as ACT/SAT preparation, college/community college admissions counseling, and financial aid consulting and support. Participants with an inking to attend college will be invited to campus to participate in campus events, tour the campus, and visit classes and departments, and speak with college students. The EOC Center can also provide access to GED services should some of the participants not have the credentials to apply to a post-secondary institution. Participants not interested in formal post-secondary education can also be referred to our second partner, the Chicago Urban League. The Chicago Urban League's many programs in career readiness and vocational training will present a viable alternative for those looking for immediate employment. The Chicago Urban League, through its Workforce Development programs, works to raise African American employment and income levels through job training and placement services, career exposure, career advancement, seminars, coaching, and long-term retention strategies. Two areas of focus are entrepreneurship and employment in the construction sector, amongst many others. The Chicago Urban League operates a full-service employment and training center as well as a career portal for job seekers and employers. The League has also formed a strong relationship and partnerships with local employers and training providers to offer employment and internship opportunities. We are currently working to establish strategic partnerships with other organizations in the region to provide additional options to the Opportunity Youth for the second year of the AmeriCorps grant. Our AmeriCorps Members will continue to mentor participants even after they are referred to one of these two Agencies or other participating agencies, and will track their progress.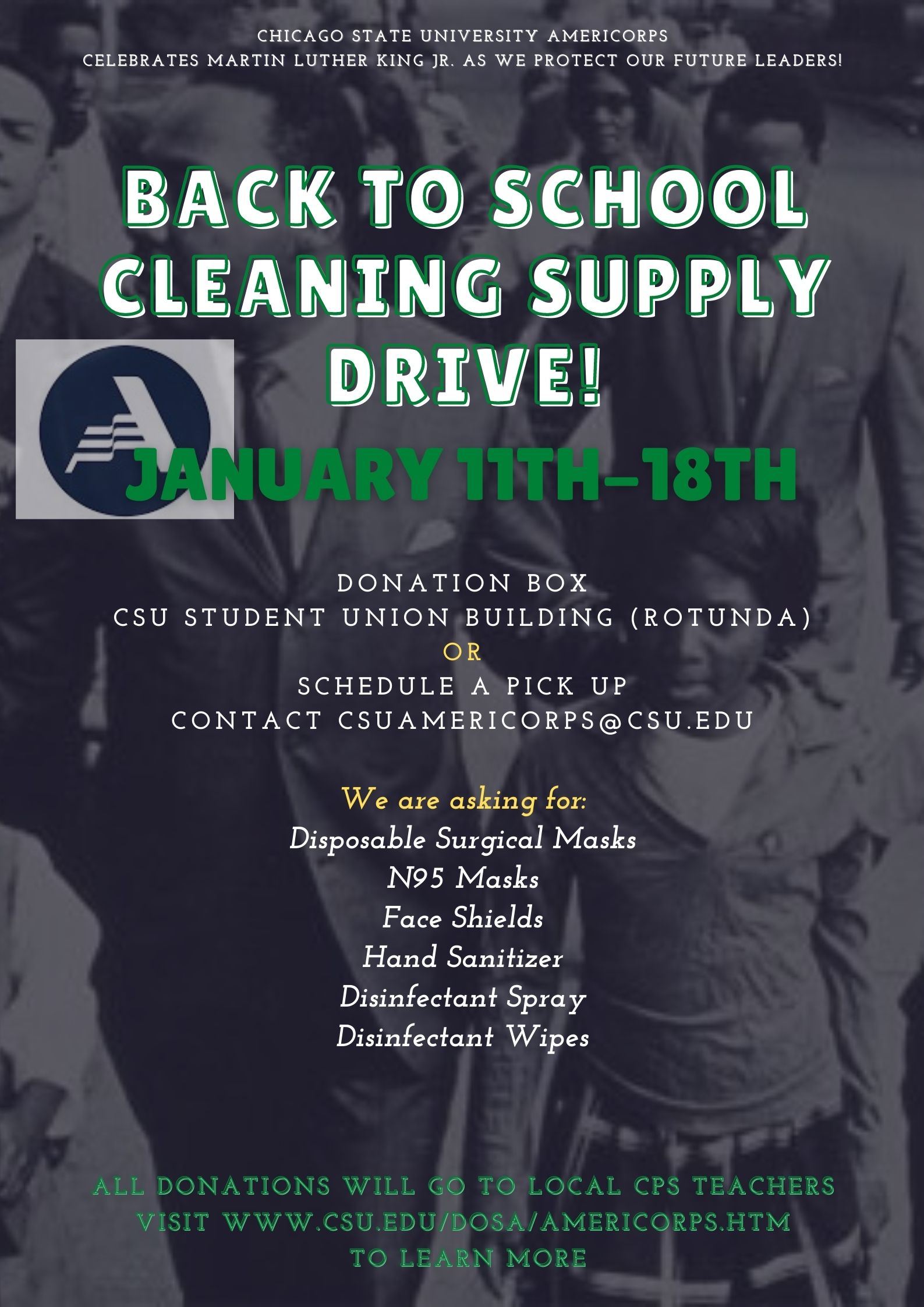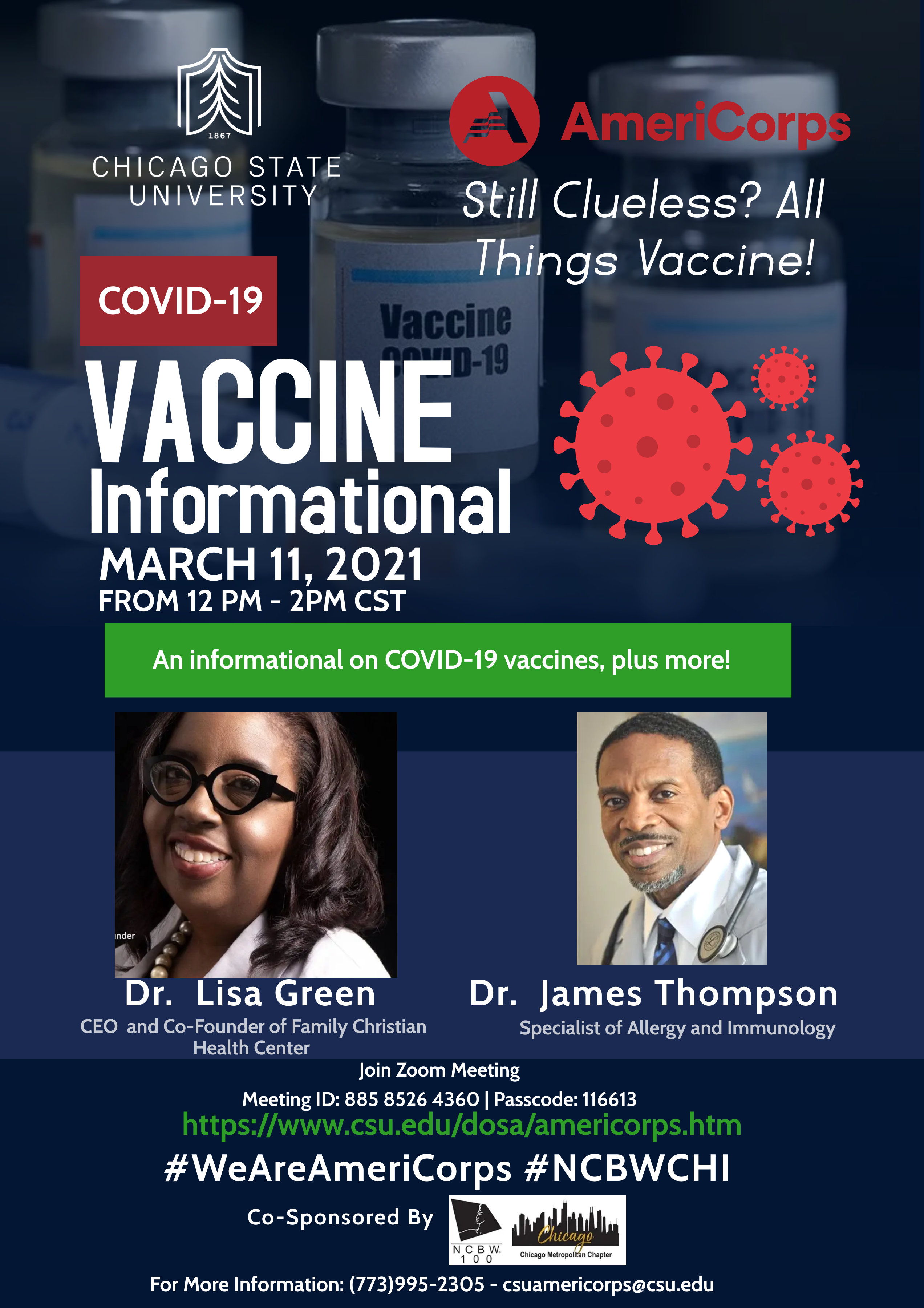 CSU AmeriCorps Volunteer with us!
For more info: csuamericorps@csu.edu
or (773)995-2592