Prospective Students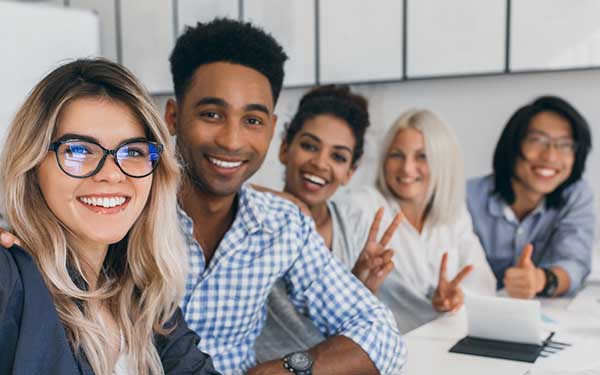 The School of Graduate and Professional Studies provides centralized administrative oversight and support to the colleges and departments administering programs and services to graduate and professional students. We support the University's mission with regard to the provision of a high-quality teaching, learning, and research environment for graduate and professional students and graduate faculty.
In Practice This Means:
Advancing the development of the School of Graduate and Professional Studies with regard to students' interests and needed experiences.
Serving as a focal point for the development of new initiatives that benefit the University's short- and long-term goals for graduate and professional level programs and services.
Providing the administrative process for maintaining appropriate standards and compliance for graduate and professional programs.
Promoting a research-based learning environment that provides experiences and knowledge for
Developing critical analysis skills needed for graduate and professional students.
What Differentiates Us
With 23 Masters Programs, Ed. D., Pharm.D., and 10 certificate programs, Graduate and Professional Studies meets the needs of graduate and professional education at Chicago State University by building upon the strengths, experiences, and successes of the academic departments and their operations, functions and services with a full continuum of support services for prospective and continuing graduate students.
We offer small size classes, individualized attention from professors rather than graduate assistants or teaching assistants. We provide internship opportunities to help our students gain exceptional experience while learning. All of our programs are accredited and meets the highest academic standards at National and International levels. To view a list of Chicago State University's accreditation by programs, click here.
Types of Admission
Full Admission
Full Admission Applicants meeting all university admission requirements, including the required 3.0 grade point average and all requirements set by the department administering the program may be granted full admission to degree status. Applicants for doctoral programs have only one category of admission: full.
Note: International applicants need full admission.
Admission with Conditions
The records of students whose grade point average is between 2.75 and 2.99 (on a 4.00 scale) for the final sixty semester credit hours of undergraduate/graduate courses are reviewed individually for other evidence of potential for success in graduate study to determine eligibility for admission with conditions. Some students may be admitted with other conditions set by the academic program, even if they have a GPA of 3.0. All students admitted with conditions must fulfill the requirements within the time limit outlined by the program. Students who have met the prescribed requirements should file a "Change of Status" form with the Office of Graduate and Professional Studies to have their conditional status changed. Admission with Conditions status may be removed by satisfying all other conditions as set by the department (e.g., missing prerequisites, submission of final transcript, and admission to candidacy). Students admitted with grade point averages below 3.0 must achieve a B average (3.0) in the first nine semester hours of graduate course work, as prescribed by the department.
Note: International applicants and Doctoral applicants are not eligible for conditional admission.
Change of Status (Admission with Conditions to Full Admission)
Graduate students who have been admitted with conditions to a degree program at Chicago State University and who have met the prescribed requirements (conditions) must file a Change of Status request with the Graduate Admissions Office by obtaining an approval signature from the graduate adviser of the program to which the student was admitted. Students who do not meet the prescribed requirements will lose their admissions status and may not continue in the degree program. The student is responsible for removal of conditional status if they satisfy the conditions. Failure to submit a change of status form will result in the loss of their full admission to the program. The student may choose to continue non-degree study as a student-at-large or apply for admission to another degree program, but not in the department in which he or she was admitted with conditions
Early Admission (Graduating Seniors)
Chicago State University graduating seniors who will have earned the bachelor's degree before enrolling as a graduate or professional student may apply to graduate study and be considered for early admission. In this case, admission will be held in abeyance until receipt by the Graduate Admissions of the final official transcript showing the conferral of the bachelor's degree. Those who do not subsequently receive the bachelor's degree will have their admission rescinded. A student may not earn graduate credit if evidence of completion of a bachelor's degree is not received. Graduating seniors from other Universities also can also avail this facility. In their case, the transcripts need to be submitted before admission. For international students, please contact the Graduate Office for instructions to apply for early admission.
Admission to Candidacy
Select academic departments have prescriptions for evaluating a student's eligibility for Admission to Candidacy status. Admission to Candidacy is the formal approval for pursuit of a graduate degree after it is determined that all specified preliminary requirements have been met. These prescriptions do not include academic deficiencies of a remedial nature, but are designed as a proving ground for indication of future success in the program. After having been admitted to graduate study with the objective of earning an advanced degree, the graduate student must apply for and be admitted to candidacy for the degree sought. Specific information regarding procedures 30 for achieving candidacy is available in the academic department administering a graduate program.
Change of Program
Graduate students who have been formally admitted to a degree program may apply for a change of program for admission to another graduate program. To apply, interested students must complete the change of program form from Graduate Admissions to obtain a release from the department in which they are currently pursuing a degree. Once released, the student automatically becomes a graduate-at-large student while the new application is processed for admission to the new department. There is no guarantee that the new program will admit the transferring student. The same admission process and requirements are followed for the transferring applicant as for a new applicant. No additional application fee is required.
Non-Degree Admission
Non-degree admission to the Graduate School is granted to those who wish to enroll in courses but do not intend to qualify for a degree. Students who hold at least a bachelor's degree from a regionally accredited college or university and who wish to enroll in graduate courses for their own personal enrichment or professional advancement may do so by completing a short graduate-at-large student application form in the Office of Graduate and Professional Studies. There is a nonrefundable $30 application fee. Applicants for graduate-at-large status must present proof of degree at the time of application. A maximum of twelve semester hours taken in graduate-at-large status at Chicago State University prior to formal admission may be applied to a master's degree program with the approval of the department administering the program. (Some programs only permit 6 hours.)
Note: Admission on a non-degree basis does not imply eligibility for matriculation or acceptance in any degree program.
Enrollment Deferral
Students are expected to enroll in the term for which they have been admitted. At the discretion of the Graduate School and the academic department supervising the degree program, students may defer their initial term of enrollment for no more than one academic year by submitting a written request, supported by the department/program, directly to Office of Graduate and Professional Studies. If deferral is approved, students will be held accountable under the policies and procedures in effect at the time of their enrollment including the time to complete the degree, not the policies and procedures at the time of initial admission.
Re-admission/Re-entry
Graduate students who have withdrawn from the university in good academic standing (i.e., with a grade point average of 2.8 or better and with all accounts cleared prior to withdrawal) and who wish to re-enroll, should apply to the university prior to the beginning of the semester for which they plan to re-enter and must complete their degree within 6 years of initial registration to the program/entry to the university. Students admitted to a degree or graduate certificate program must obtain the approval of the academic department supervising the graduate program. If a student is not enrolled for two calendar years or more, and wish to come back, the student must complete an application for re-admission, available at www.csu.edu/graduateschool/forms, and is responsible for following degree requirements in effect at the time of resumption of enrollment. If six years have passed since initial admission to the program, the student must reapply for fresh admission to the program through the Office of Graduate and Professional Studies.
Official Transcripts
Applicants must submit official transcripts from all institutions previously attended. Transcripts must arrive sealed, or sent via an electronic transcript service, display degree earned, completion date, program completed and bear the signature of the school's registrar. It is the student's responsibility to ensure that all requested transcripts are received by the published application deadline. Transcripts previously submitted to the undergraduate or graduate school at CSU or the Teacher Licensure Office cannot be reused with a new application process. Additionally, applicants to the following programs must submit two official copies of all transcripts: School Counseling, Principal Preparation, Special Education, and Information Studies.
To apply online click the button,
Graduate Admissions
Cook Administration, Rm 200
Phone: (773)995-2404, Fax: (773)995-3671
Email: grad-admissions@csu.edu