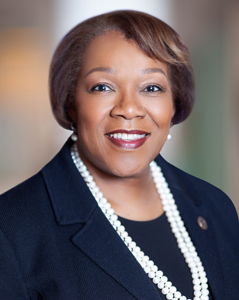 Zaldwaynaka ("Z") Scott, Esq.
President
Zaldwaynaka ("Z") Scott, Esq., unanimously elected by the Board of Trustees to serve as the 12th permanent president of Chicago State University, assumed the role on July 1, 2018.
President Scott oversaw the development and advancement of the CSU Strategic Plan 2020-2025, ensuring that the institution will lead with the mission of transformation for students' lives through innovation and excellence in ethical leadership. She also supervised the launch of a historic re-brand of the University, putting into motion new brand assets and campaigns to revitalize the institution's reputation and raise awareness among new stakeholders. President Scott is a well-known advocate for equity in higher education, having formed and co-chaired the Equity Working Group, a body of leaders from across the education, public, private, philanthropic, and community development sectors to formulate an action plan for addressing Black student access and success in Illinois higher education.
To read President Scott's full biography, please click here.