Claim Your Account
Step 1: Go to Self Service Page. Click Here
Step 2: Click on the link below Other options "Claim Your Account".
Self Service
Step 3: Enter your CSU ID (it is your nine digit csu id number), Birth Date,and Last Name.
Click Next.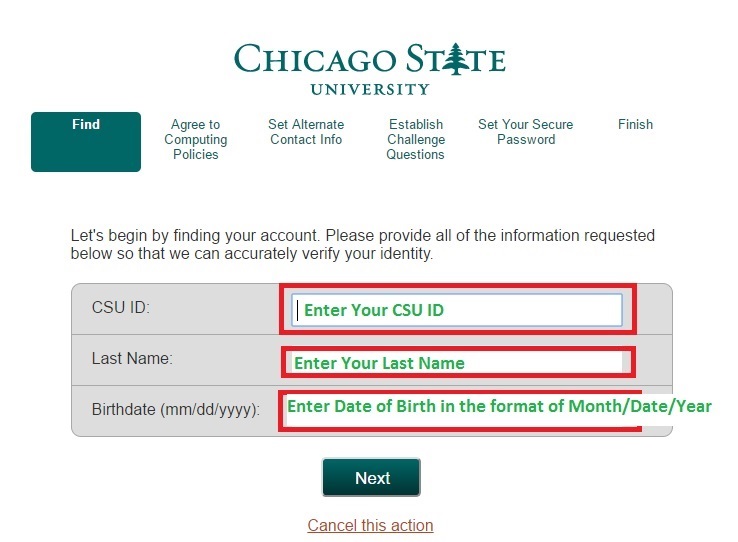 Step 4:Please read th e policy "Responsible & Ethical use of Computing Resources". Click the box to accept the terms and then click Next.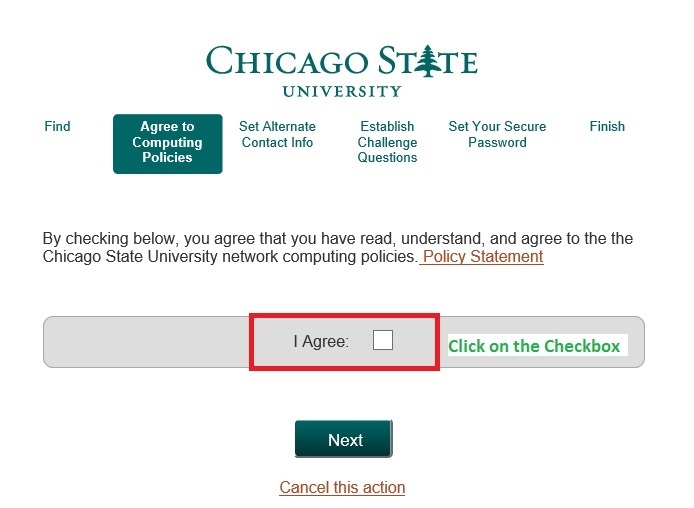 Computer users shall be liable for all activities on their accounts.All relevant federal and state laws and all University regulations shall apply.The school district shall reserve the right to limit.restrict, or extend computing or communications privileges and access to its information resources.
Acceptable Use
School district computing and communications resources shall be used for the school-related activities for which they are assigned.
Proper copyright permission shall be obtained and sources shall be properly cited.


Users shall not engage in activities that compromise computer security, circumvent controls,disrupt services, or violate computer etiquette.

School district policies shall not supersede federal or state laws, illegal actions may result in prosecution.
Violations of the school district's computing policies may result in the revocation of access or the discontinuance of an account or the loss of computing privileges.
Privacy. Computer files, electronic mail, and computing accounts are not absolutely private and may be subject to access by various authorized persons.
Step 5: Please enter your alternate contact information. This is the method the system will use to contact you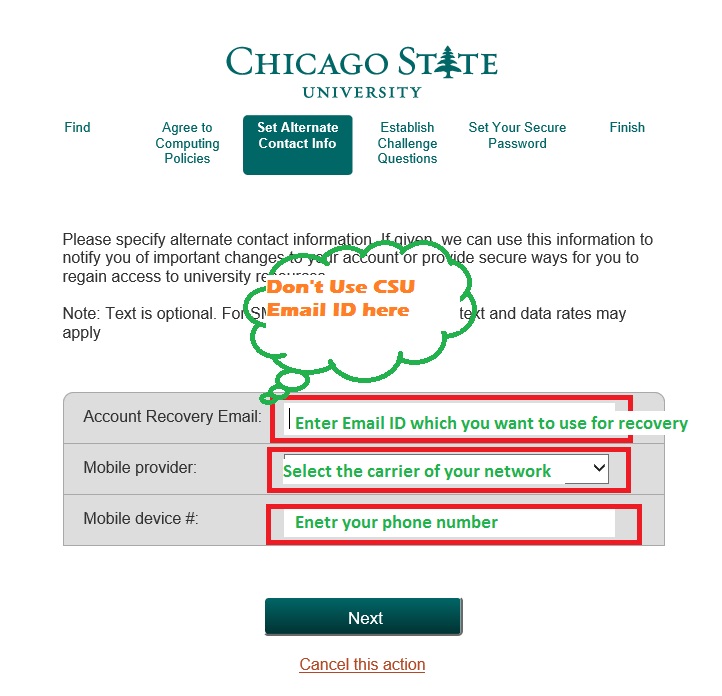 if you forget your password,you have the option to reset your password via a text message or an email to an alternative email account.The mobile phone number and email address provided here can be used when you request a reset of a forgotten password.This is OPTIONAL.if you do not wish to provide amobile phone number and/or an alternate email address, leave the field or fields blank. You will still be able to use security questions to recover your account if your forget your password.
Step 6: Please select and answer your security questions. These questions will be used to reset your password.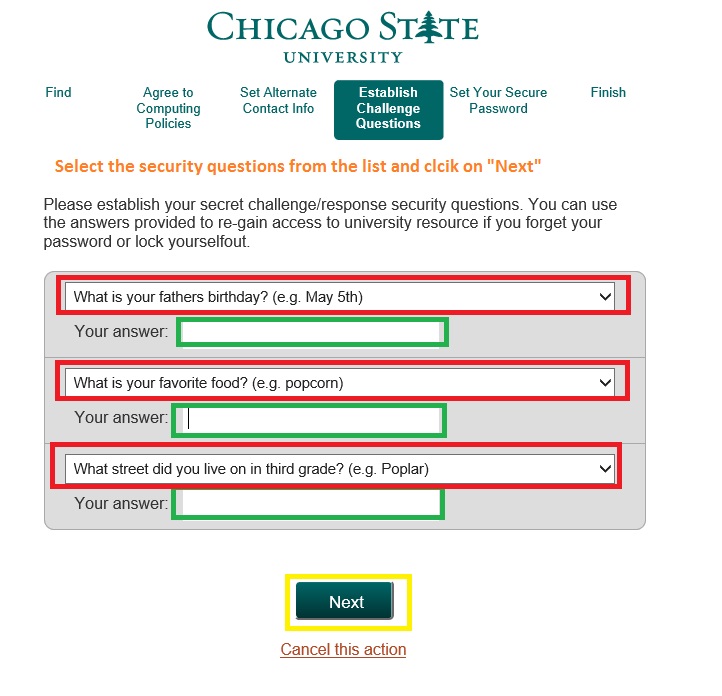 If you forget your password,you will be able to reset your password by correctly answering your security questions. You must choose 3 different questions. You must provide an answer to all 2 questions. All answer must be at least 4 characters in length and they all must be unique.
Step 7: Enter and confirm your password following the rules listed below. Then click next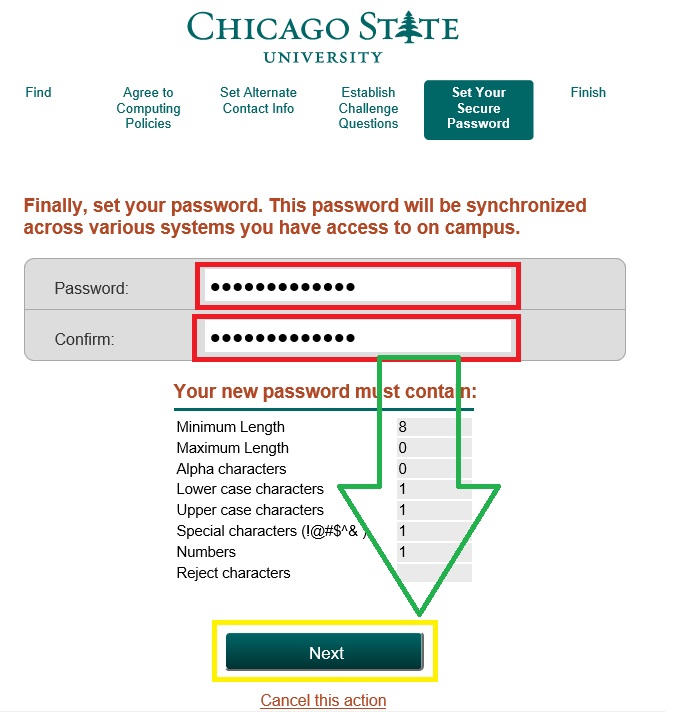 Step 8: Your Activation is Complete. Please print this page for your records. You will need to remember your account user id and your newly created password to access your email, moodle, and active directory account.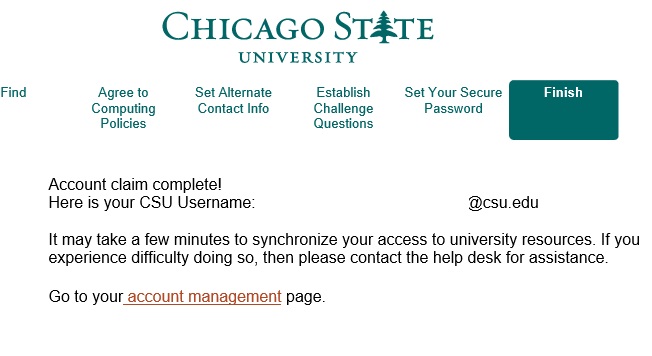 You have successfully complete the account activation process.Below is your Chicago State Unniversity user id and your email address.We strongly encourage you to check your email frequently as this email address will be the primary source for official school communications
Your account user id:
Your email address:
Please write down this information for your records.
Welcome to Chicago State University
Finalize Your Account Activation
Manage Your Account.
Change your password, or view or modify your account information.