Assessment

College of Education
Conceptual Framework
The COE Conceptual Framework stipulates the shared vision, mission, philosophy, purpose, goals, and standards for preparing educators to work in P-12 schools. It communicates the knowledge bases, including theories, research, and the wisdom of practice. Five critical themes synthesize our conceptual framework to express what we do on a daily basis to prepare our candidates:
(P) Professionalism
(A) Assessment
(C) Content knowledge
(T) Technology
(S) Standards
These themes, which are represented by the PACTS acronym, express how our teacher preparation programs and other personnel preparation programs prepare our candidates to support students learning.
The College of Education is committed to the principle that we:
Develop knowledge, skills and dispositions that characterize (P)rofessional school personnel;
(A)ssess our candidates' competencies and prepare them to assess the abilities of students;
Develop (C)ontent and pedagogical knowledge among our candidates;
Model the use of (T)echnology as tools that prepare candidates to effectively and efficiently facilitate learning;
Adhere to (S)tandards when designing and redesigning programs to insure best practices inside and outside the classroom.
The PACTS acronym also serves an added purpose of offering five alphabetic indicators for the College's motto: We Prepare All Candidates To Support student learning. Our faculty and staff employ best practices in teaching, learning, and assessment to ensure that our candidates are prepared to support student learning.
Key Assessment System
The COE Key Assessment System is designed to consider the stages of Input / Processes / Outcome Measures and Decisions that are then used to continually improve candidate performance over time. As shown in the diagram below, the College acknowledges the influence of both internal and external factors that shape our practices. In general, we have identified four key benchmarks through which our candidates are transformed:
Admission
Candidate Performance in Coursework
Candidate Performance in Clinical Settings
Program Completion / Graduation
COE Faculty transform candidates through learning experiences aligned with our PACTS conceptual framework. Then, we as a College at the course level, program level and College level, review our Outcome Measures that include our COE Key Assessments, COE Post-Program Completion / Graduation Measures and other Program or College level measures needed to assure that our candidates meet the expectations by the Illinois State Board of Education or other outside Approval Entity. Intentionally, program level assessment coordinators are then able to use our College and Program-specific key assessment instruments and other measures to report to the University through the University Assessment Committee process.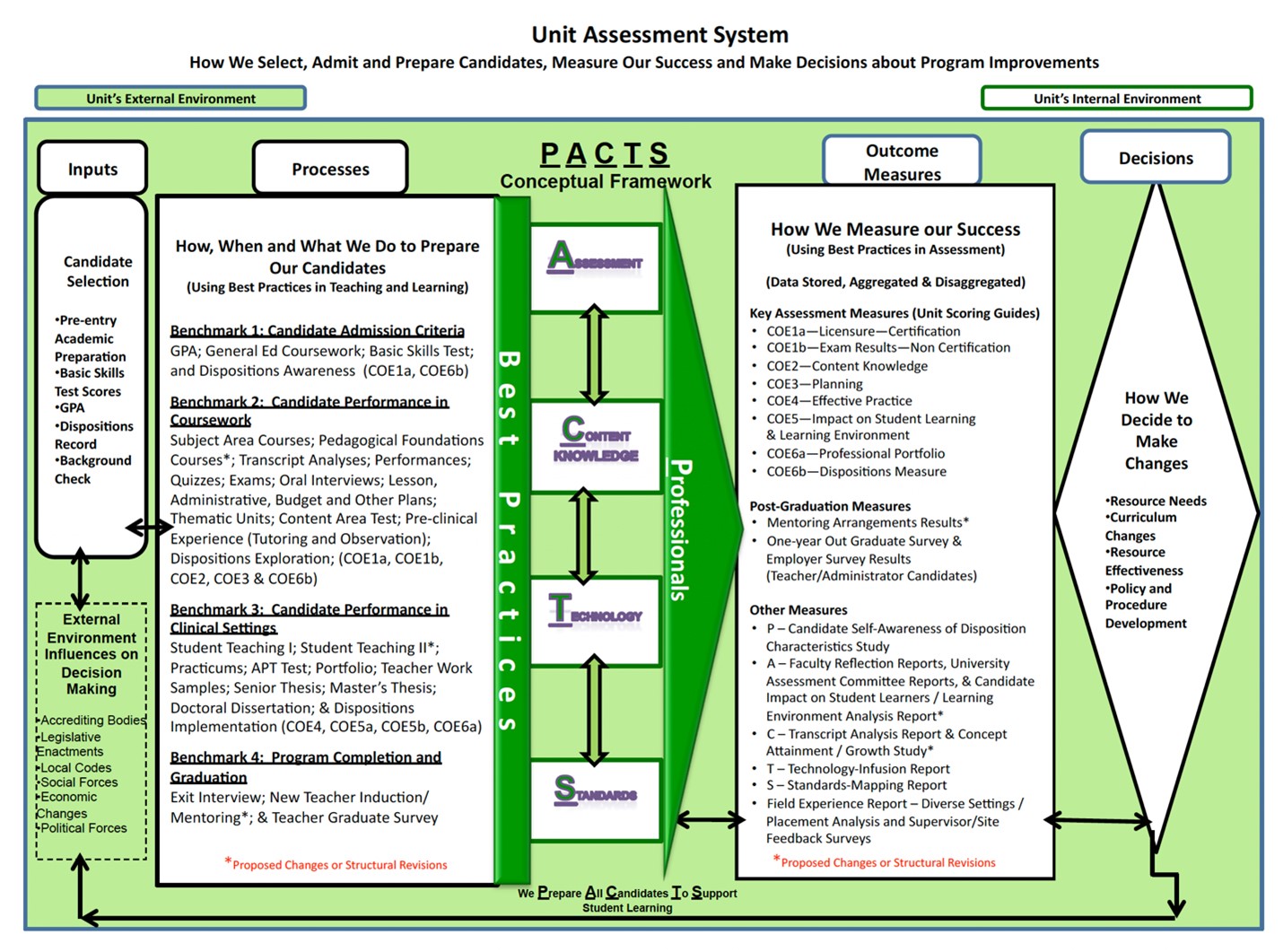 Key Assessment Scoring Guides
The College of Education Key Assessment Scoring Guides align with the Danielson Framework, the Candidate Preservice Assessment Student Teaching (CPAST) and Education Teacher Performance Assessment (edTPA) key objectives for the student teaching / clinical learning experiences.
The scoring guides developed for use with foundations courses, methods courses and pre-clinical learning experiences include:
COE 2A - Content Knowledge and Skills - Scoring Guide
COE 2B - Content - Technology - Scoring Guide
COE 3 - Lesson / Unit Planning (DF Domain 1) - Scoring Guide
COE 4 - Classroom Environment / Impact on Student Learning (DF Domain 2) - Scoring Guide
COE 5 - Effective Practice / Instruction (DF Domain 3) - Scoring Guide
COE 6 - Professionalism / Dispositions / Reflective Practice (DF Domain 4) - Scoring Guide
The scoring guides developed for use with Methods courses, Field Practicum Courses and Student Teaching / clinical learning experiences include:
COE Form B-1: COE Pre-Clinical Experience | Field Lessons | Mock Lessons in Methods Course - Scoring Guide
COE Form B-2: COE Student Teaching Scoring Guide
COE Form B-3: COE Candidate Work Sample - Scoring Guide
Descriptions and Scoring Guides for the COE Key Assessments are available in the COE Assessment Coordinator Report.
Key Assessment Data Reports