Honors Curriculum
The Honors College at CSU provides you with the tools you'll need to pursue an ambitious course of study. The Honors Core Curriculum is a distinctive general education curriculum taken during the freshman and sophomore years primarily. Most of the Core courses are interdisciplinary, and many are team-taught. All of the courses have been designed especially for the Honors College by the faculty who teach them. The Core Curriculum insures that all students in the Honors College receive a first-class liberal education regardless of their major fields of study. Completion of the Honors Core Curriculum satisfies the university's general education requirements.
We regard the Honors curriculum as a teaching and learning laboratory, where ideas for new courses and new ways of teaching constantly stimulate both teachers and students alike. The special seminar format fosters additional teaching and learning innovation that are of benefit to the entire academic community to the degree that Honors College students pursue other degree programs beyond the Honors College in their junior and senior years.
The Honors Core courses, sequences, and seminars are designed to challenge students by providing exposure to some of CSU's best and most exciting faculty, while introducing important topics, issues and methods of inquiry across disciplines. Through them, our students develop and sharpen their reading, writing, mathematical, analytical, and communication skills.
The College is designed for students who embrace the chance to work hard, read more, take risks, and challenge conventional wisdom. CSU offers the most challenging and enriching educational experience you might find at any institution of higher education anywhere.
To see the courses in the Core Curriculum, click here.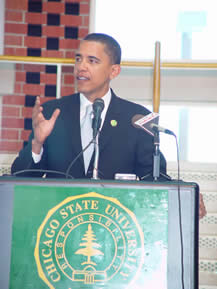 Senator Obama addresses the university community
Then-U.S. Senator and future President Barack Obama, wearing the CSU Honors College pin, addresses the campus community as an honorary member of the CSU Honors College. The future President Obama visited the CSU campus on April 8, 2005 and was inducted into the Honors College as part of the Seventh Annual Turning of the Centuries Conference where he was the keynote speaker.