Students
Honors College students are a vibrant and engaged community at Chicago State. Each year, Honors College students are recognized for their academic achievement and their commitment to campus and community service.
2021-2022 Honors College Student Council
Each academic year, the Honors College students elect officers to serve as the leaders and organizers for the Honors College students, and these officers make up the Honors College Student Council. Below are the officers in the Honors College Student Council:
Alex Diaz, President
Adaeze Olikagu, Vice President
Adebusola Adewunmi, Treasurer
Christabel Addo, Secretary
Catrina Wright, Sergeant-at-Arms
We welcomed 23 new students to the Honors College for the 2021 Cohort, including 11 first-time students (freshmen) and 12 new transfer or current CSU students. These 2021 Cohort is a diverse group, with students in eleven (11) different majors, from seven (7) different CSU athletics' teams, and from places as close as the neighborhoods right around Chicago State, to other neighborhoods in Chicago, to other towns throughout Illinois, to eight (8) other states in the US, and to countries in Africa & Latin America. Like many of the students at Chicago State, the 2021 Honors College Cohort includes students who are first-generation college students, students with families, students who work, and students with many commitments and responsibilities in addition to their work at Chicago State.
We formally welcomed the 2021 Cohort at our 18th Annual Honors College Induction Ceremony that was held on September 28, 2021 in the Gwendolyn Brooks Library.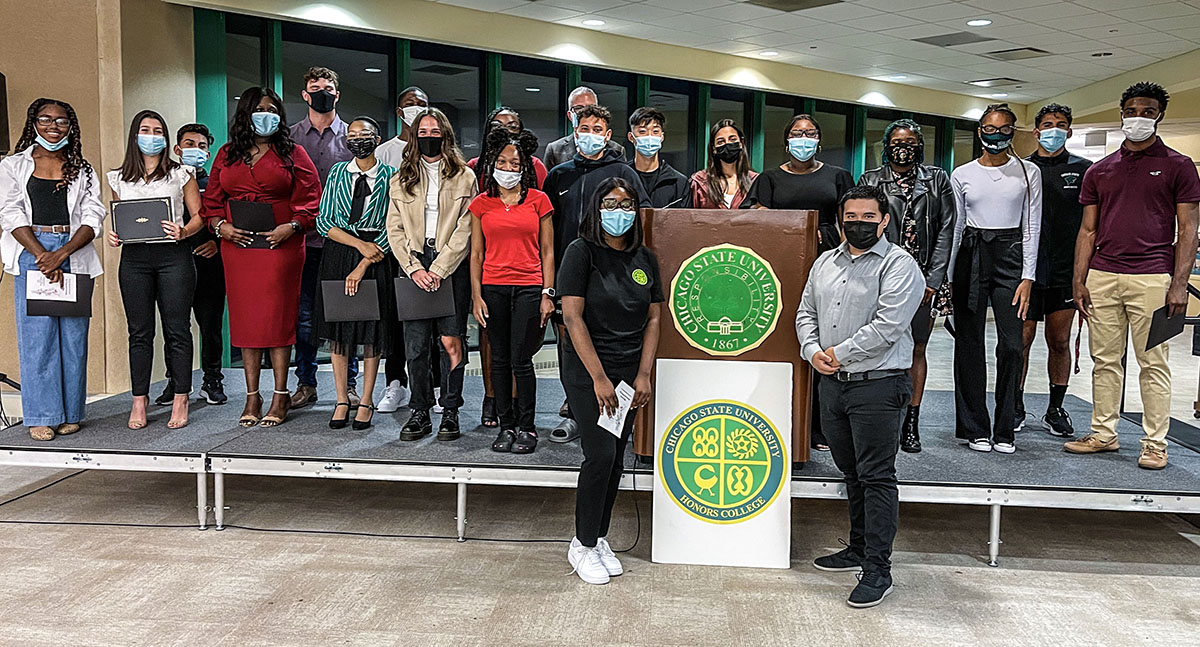 Christabel Addo
Andres Bermudez
Isabelle Bernier
Robert Pierce Blount IV
Zaniah Bobo
Tiana Crossley
Eduardo Flores Garcia
Jayrell Garcia
Danina Hughes
Camron Jones
Faith McKinney
Favour Olikagu
Eianncris Panaligan
Gisselle Sahagun
Annwhar Sefah
Benjamin Suddeth
Saige Thor
Jillian Tyson
Valeria Vizcaino
Breenay Wallace
Clay Wells
Catrina Wright
Enrique Zamora Lopez