Program & Career Highlights
The Honors College offers undergraduate students several special advantages, such as:
an enriched general education curriculum for rigorous preparation for any major degree
opportunities to register for classes early
scholarship opportunities for Honors College students
cultural and social events with faculty and peers
leadership opportunities in the community and on campus
honors academic advising and scholarship application counseling
special activities involving visiting scholars and Chicago State faculty
hands-on research opportunities with top research faculty
Honors College Guest Speakers
The Honors College has a long history of inviting guest speakers who are leading scholars in their fields, significant local and national business leaders, and city, state, and national political officials.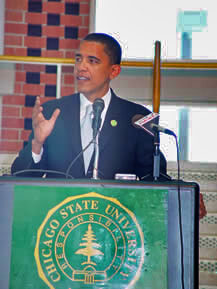 On April 8, 2005, then-U.S. Senator and future President Barack Obama, wearing a Chicago State University Honors College pin, addressed the campus community as an honorary member of the CSU Honors College. The future President Obama visited the Chicago State campus and was inducted into the Honors College as part of the Seventh Annual Turning of the Centuries Conference where he was the keynote speaker.